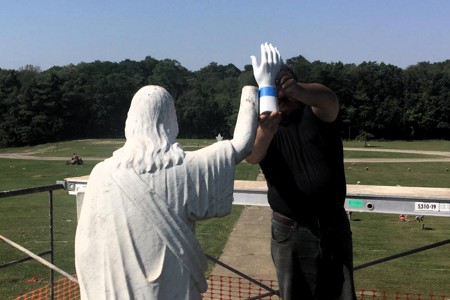 Project Overview
Springdale Cemetery, in Peoria, Illinois, is host to many fine, vintage statues. Over time, a statue of Jesus during the Sermon on the Mount, lost its outstretched right hand. The Springdale Historic Preservation Foundation contracted Heritage Restoration to recreate the missing hand and finish it in such a way that the hand would blend with the 70 year old exterior of the original statue.
---
---
Project Video
In Depth
First, Heritage's staff took detailed measurements of the point where the hand had snapped off the wrist. A mold was then cast of the break. Using the mold, Heritage's design staff 3D printed a prototype hand. This hand was fitted against the statue to ensure the accuracy of the measurements.
The prototype would become the foundation for the carving of a new hand in statuary white marble. Since the marble is not native to the United States, Heritage reached out to its network of suppliers to gather the materials to carve a detailed replacement.
Once the weather was amiable, Heritage's staff returned to the cemetery with the new hand. Both mechanical fittings and sealing compounds were used to attach the hand to the statue. After the compounds dried, a custom blend of finishes were painted onto the wrist and hand to match the look of the new appendage with that of the rest of the statue. Between the coating an the natural weathering process of outdoor stone, within a few years the hand will appear completely indistinguishable from the rest of the statue.
This historic, seventy-year-old statue is now good as new, without ever having lost its vintage appearance.