---
Overview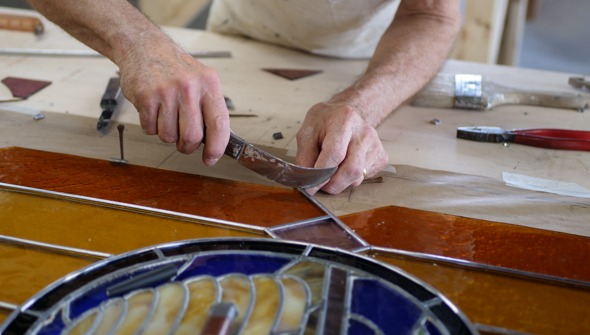 ''Stained Glass is Where Color and Light Meet" Michael H. Berlinger
From father to son and master to apprentice, the stained glass master craftsmanship tradition has been passed down through the ages, combining a wealth of knowledge from past generations with the technological advances of today. Heritage Restoration and Design Studio, now in its sixth generation, is dedicated to historical window art design and full historic restoration of leaded stained glass windows and panels.
History of Stained Leaded Glass
Since Medieval times, stained glass artisans have been continually perfecting the art of sculpting lead and glass together to produce incredible, awe-inspiring windows for houses of worship, homes, businesses, and public buildings. The purpose of stained glass windows was in the past as it is today, to enhance the beauty of their setting and to be informative to the viewer through a rich narrative or symbolism. There is no substitute for authentic stained glass. Its natural beauty is unsurpassed.
General Process for Window Restoration
Determine the age and condition of the windows
Determine whether the windows were installed from the inside or outside
Establish the value of the window units with and without frames
Professional window removal and crating for protection during shipping
Full restoration of the units including repairing broken glass, caming, sealing and bar installation
Crating before shipping to the client's location
Careful installation into existing or new frames
We carry specialized insurance while items are in our possession or while traveling to and from the client's site.
Framing
Stained glass panels are commonly set in wood or metal window frames. Heritage Restoration's Wood Shop designs and manufactures a wide variety of wood window frames. We create completely new units, or historically reproduce matching frames. In addition, many modern structures require metal frames. With our partners, we design and manufacture custom stained glass aluminum frames in natural, painted and anodized finishes to match your interior or exterior architectural designs. Our wood and metal frame designs are made specifically to house stained glass panels while allowing for modern insulated clear glass on the outside. This not only maintains room temperature and provides an effective vapor barrier, but also protects the valuable stained glass for many decades.
---
Heritage Restoration and Design Studio's Mission: "Design, Restore and Preserve for the Future"
---